A Conversation with U.S. Marine Veteran and Author Frank "Gus" Biggio '93
Tuesday, February 9, 2021 12:00 pm EST to 1:00 pm EST
Register for this Event
See Who's Attending
---
Join us as Frank "Gus" Biggio '93 discusses his memoir, "The Wolves of Helmand," with Denison Professor of English Margot Singer.
During this live event, Gus will share his experiences serving as a Marine in Afghanistan. His new book, "The Wolves of Helmand: A View from Inside the Den of Modern War," is both a heartfelt homage to the Marine brotherhood with whom Gus served and an expression of respect and love for the people of Afghanistan who ultimately trusted, shared, and appreciated their purpose. Margot Singer, Denison English and creative writing professor, will serve as moderator. You won't want to miss this special event!
Registrants can purchase "The Wolves of Helmand" from the Denison Bookstore. All the proceeds from this purchase will go to the Alumni and Memorial Scholarship Fund, which supports the most important needs of our university and its student body.
This event is exclusively available to members of the Denison community. Attendees will be emailed the Zoom link in their registration confirmation and before the event.
About the book
"The Wolves of Helmand" is unlike other war memoirs. It takes you less into the action — though there is that, too — and more into the quiet places of today's war zones. Yes, you'll read of the Marines' stealth arrival in a single night, their advanced weaponry, and their pop-up industrial village command centers. You'll read, as well, about the ambushed patrols and the carnage of IEDs. But you will also read about the persistence, humility, ruggedness, loneliness, tedium, diplomacy, and humanity of the Marines' jobs there, which more than anything else reveals the magnitude of even the smallest victories.
Completed years after the author's return from his mission, "The Wolves of Helmand" is most of all a decade-long self-examination of a warrior's heart, conscience, and memory. Whether intended or not, Gus's deep reflections and innate honesty answer every question you've ever wanted to ask about life and death in war—and even questions you probably never thought to ask: What calls a warrior to duty? What makes, sustains, plagues, and even breaks a warrior?
These are bigger questions than the ones impolite society pokes around when a veteran returns home—Did you kill anyone? Did you have to go? Why would you fight for another country? Why were we even there?
Yet the answers to those queries are here, too, in this thoughtful memoir that will make you think about war, family, love, and loss.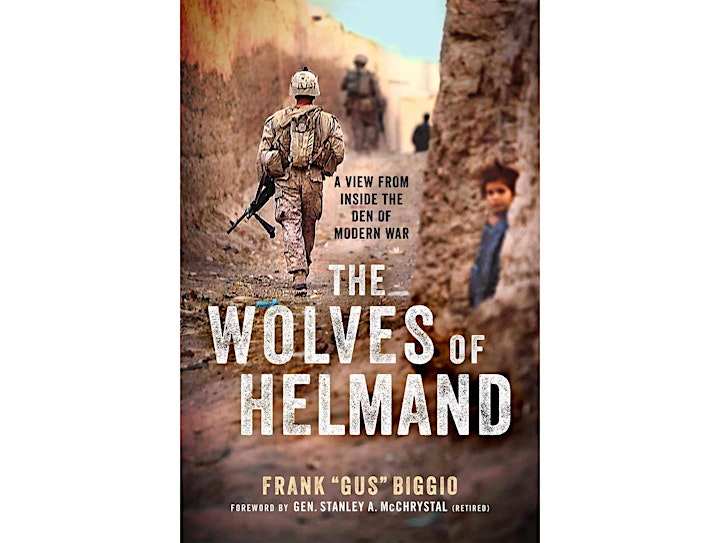 About the author
Frank "Gus" Biggio '93 served on active duty in the United States Marine Corps from mid-1993 until December 1997 after graduating from Denison. After his initial service, he returned to his native Ohio to attend law school at Case Western Reserve University. Gus then lived and worked in New York City and Washington, D.C., picking up a degree from Georgetown University along the way. Nearly ten years after first leaving the service, he rejoined the Marine Corps in October 2007. With his country at war, the same itch that drove him to volunteer in the 1990s drove his desire to serve again. His writing about the military and politics has appeared in the Cleveland Plain Dealer, Washington Post, Weekly Standard, Military Times, and the online journal, War on the Rocks. "The Wolves of Helmand" is his first book and was recently featured on NPR. Through his work, he spends his time between Switzerland and Washington, D.C., but has always called Ohio home.
About the moderator
Margot Singer is a Professor of English, Director of Creative Writing, and Director of the Eisner Center. She teaches courses in creative writing and literature, with a specialty in fiction and creative nonfiction writing. Singer's debut novel, "Underground Fugue," won the Edward Lewis Wallant Award for Jewish Fiction. Her collection of short stories, "The Pale of Settlement," won the Flannery O'Connor Award for Short Fiction, among other honors. Her short fiction and nonfiction have been widely published.