Denison Dash Inaugural Virtual 5K
Tuesday, June 1, 2021 12:00 am EDT to Wednesday, June 23, 2021 11:30 pm EDT
Register for this Event
See Who's Attending
---
Chapel Walk? Big Red Roll? Swasey Sprint? Choose your own pace and join us for the inaugural Denison Dash virtual 5K!
Chapel Walk? Big Red Roll? Swasey Sprint? Choose your own pace and join us for the inaugural Denison Dash virtual 5K!
Denison University is excited to host the inaugural Denison Dash Virtual 5k!
This fun event is designed for all ages and abilities. Whether you prefer to walk, run, roll, skate, cycle, or something else, you are invited to join your fellow Denisonians in a bit of physical activity in support of a great cause.
All Denisonians around the world are encouraged to participate.
What? This is a virtual 5K which translates to roughly 3.1 miles. You complete your race on your own at any time, any place, and in any way you prefer. Once you have finished, post your race time to the online community. All registrants receive a race shirt and access to the online community for this event.
When? Register and complete your race any time before June 23, 2021.
Where? You choose your course and you time yourself.
Why? To get moving, join an online community of Denisonians, and support Denison University.
Registration for this event includes an exclusive Denison Dash T-shirt (pictured below) and a gift to support students and programs at Denison University. Specifically, proceeds from this event will go to the Annual Fund, supporting everything from financial aid and scholarships for students to faculty development. You can find more details about the Annual Fund at the bottom of this page.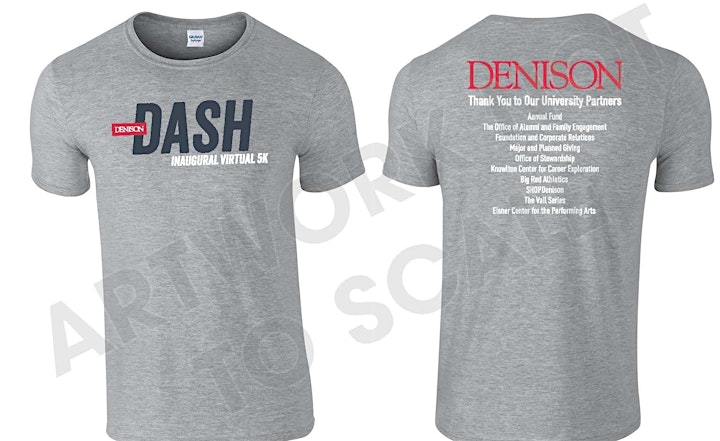 All registrants are encouraged to join the online community dedicated to this event. In this community, we will share tips and tricks to help you prepare for your 5K. And Denisonians will be sharing their stories about why they are participating. This is a great way to connect with other like-minded Denisonians! Join today!
What are you waiting for? Register today and gear up for the inaugural Denison Dash Virtual 5K!
About the Annual Fund
Consider this fact: Tuition at Denison covers only about 65 percent of what it actually costs to educate a Denison student. The Annual Fund helps to make up the difference.
President Adam Weinberg puts it this way: "The Annual Fund is one of the ways that Denison alumni and other supporters of the college help fund the gap between tuition and what it takes to give people a life-changing education."
It's where student internships, extracurricular clubs, and interdisciplinary programs get funded. It's where professors with new ideas to bring into the classroom and students dealing with unexpected emergencies go for help, including financial help.
To learn more about the Annual Fund and the impact of your support for Denison University, please visit support.denison.edu.