Industry Insider: Careers in Nonprofit
Wednesday, September 29, 2021 5:00 pm EDT to 6:00 pm EDT
Register for this Event
See Who's Attending
---
Hear from a panel of alumni nonprofit leaders and network with other alumni involved in the nonprofit industry.
Hear from a panel of alumni nonprofit leaders and network with other alumni involved in the nonprofit industry.

During this live virtual event, alumni leaders with careers in the nonprofit sector will share how their field has changed this past year, what professionals must do to stay relevant or get jobs in this space, and share advice on how to excel in one's career.
Panelists include Dean Bring '05, senior director of partnerships at the Dave Thomas Foundation for Adoption; Oyauma Garrison '96, president & CEO at A Kid Again; and Mary Ladky '81, executive director for The Children's Book Bank Canada. Anneke Mason, senior associate director, career pathways, with the Knowlton Career Center for Exploration, will moderate.
After the panel discussion, attendees will have the opportunity to network and learn from one another in breakout rooms.
We hope you join us for this event as these notable Denisonians share their experiences in the nonprofit space. You won't want to miss this important career conversation.
The event is co-sponsored by the The Austin E. Knowlton Center for Career Exploration and the Denison Edge(formerly Launch Lab).
The event is exclusively available to members of the Denison community. Attendees will be emailed the Zoom link in their registration confirmation and before the event.
About the Panelists and Moderator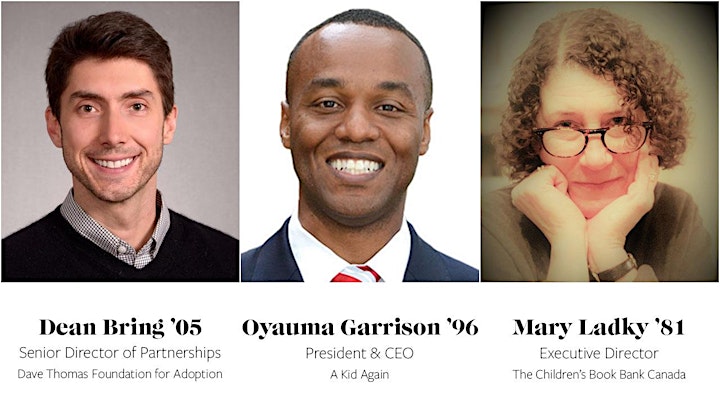 Dean Bring '05
Dean Bring is a native of Columbus, Ohio and a proud graduate of Denison University, class of 2005. After completing an undergraduate degree in economics, Dean earned a Juris Doctorate from Capital University and a Master's Degree in Sport Humanities from The Ohio State University. Dean began his career as a practicing attorney and transitioned his career to roles with a focus on sports marketing, legal management, corporate partnerships, and nonprofit development. Dean's experience spans Homage, LLC, Perio Inc. (Barbasol Brands) as well as the Dave Thomas Foundation for Adoption, where he currently serves as Senior Director of Partnerships, focusing on building philanthropic support with Wendy's to further the Foundation's mission to find forever families for children waiting in foster care.
Dean and his wife reside in Upper Arlington, near Columbus, where they remain busy raising three wonderful young daughters – Dean is a very proud #girldad.
Oyauma Garrison '96
Oyauma serves as the President & CEO at A Kid Again, Inc., a nonprofit organization that provides ongoing adventures for kids facing life-threatening conditions. Oyauma is a former insurance company executive of over 20 years. He worked at State Farm, Nationwide, Allstate, and Jacobson. He currently serves as a Director on the Board of Buckeye Insurance.
Active in the community, Oyauma has received numerous awards for leadership and community service. Honors and recognition include Top 50 Smart Business Leaders, a Columbus Business First Most Admired C-Suite leader, and NBMBAA Lifetime Achievement Award.
Oyauma received his bachelor's degree from Denison University in 1996 and his MBA from Franklin University. He received an honorary doctorate from Franklin University for Community Leadership. This year, he received the Denison Alumni Citation, the highest honor bestowed upon Denisonians for professional accomplishment, service to the community, and service to Denison.
Mary Ladky '81
After graduating from Denison and completing a Master's degree at University College Dublin, Mary's early career focused on teaching secondary English in a variety of settings including Montreal, New York state, Beijing, and Hong Kong. Later, she pursued a Doctorate in Education at the University of Toronto where her thesis explored the relationship between cultural identity, language, and secondary English pedagogy. She went on to teach at Trent University's School of Education and, during that time, took on numerous volunteer roles with the New Canadians Centre in Peterborough, Ontario.
Interested in continuing to promote the connections between literacy, social inclusion and democratic values, Mary's now the Executive Director of The Children's Book Bank located in Toronto, a not-for-profit organization focused on providing free, fully accessible book ownership and literacy programs to children and families living in the city's high priority neighborhoods.
Anneke Mason, moderator
Anneke currently serves Denison as the Senior Associate Director for Career Pathways in the Knowlton Center. She has built her career on helping students navigate their early career trajectories through thoughtful career exploration and purposeful preparation.
A proud product of a small liberal arts education, Anneke loves helping students talk through the big and small questions that come with connecting your interests, passions, and skills to the world after Denison. She has held career development roles at several small liberal arts colleges, including Denison University, Kenyon College, and Wittenberg University. She holds two master's degrees in Data-Driven Education and Higher Education & Student Affairs from Johns Hopkins University and Ohio State University.