WELCOME HOME.
Denisonians know that the relationships forged here are at the heart of the college's spirit and character. They are in our DNA. The relationships students form with their classmates, professors, mentors, advisers, coaches, artistic directors, and staff who support them in student development and career exploration — in addition to members of Denison's vast professional alumni network — comprise the essence of our "fair college on the hill."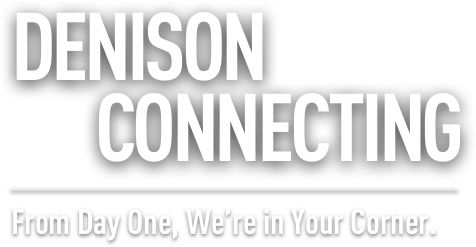 Denison Connecting adds the power of almost 40,000 alumni and friends to your career network. Denisonians get together at events around the world to network and learn from fellow alumni and industry experts. Virtual events create conversations as we build on relationships from our time on the Hill.
View all upcoming events →
Mentor & network using Wisr →
Honors & Awards
Alumni Citations
The Alumni Citation is the highest honor bestowed upon a Denisonian. The criteria for selection include professional accomplishment, service to one's local community and service to Denison. Since its inception in 1949, more than 500 distinguished alumni have been honored. Nominations for the Citation may be submitted at any time, and awards traditionally are presented in one's reunion year. Awardees must be present at Reunion Weekend to receive the Citation.
Learn More →
Reunion Hall of Fame
Class participation matters in a big way at Denison. During reunion convocation each year, classes are inducted into the Reunion Hall of Fame to acknowledge class efforts for giving and attendance. Are you currently celebrating a reunion year? If so, help your class to achieve an award by making your gift and pre-registering to attend Reunion. Your participation makes a difference!
Read More →
Athletics Hall of Fame
For all student-athletes at DU, participation in intercollegiate sports is an integral part of their overall educational experience. Athletic teams at Denison are consistently competitive on the conference and national levels. The tradition of excellence associated with Denison athletic programs is due, in part, to the winning heritage which has been established over more than a century of intercollegiate competition.
Learn More →