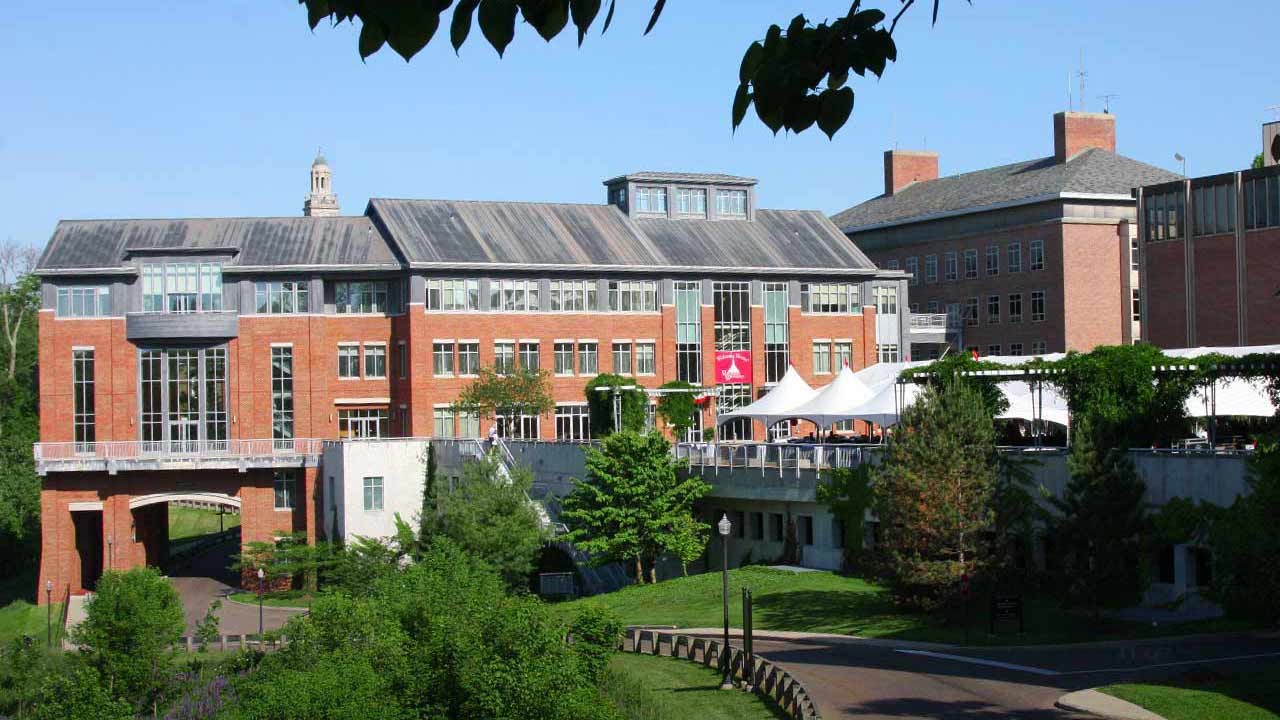 Dear Denisonians,
For the health and safety of our beloved Denison community, we have made the difficult decision to cancel on-campus Reunion events originally scheduled for June 2021. This is deeply disappointing news for all of us, as we know how hard our Reunion class committee chairs and volunteers have worked to create an experience centered around renewing connections with your classmates and friends at the "Home we love so well." Our Reunions are successful because of your purposeful engagement, and for that, we thank you.
Whether it is your fifth or 65th Reunion, we are committed to continuing the celebration of your milestone anniversaries with virtual events this spring, and we hope to begin hosting in-person events for some classes this fall. Our team is already working with Reunion committees on planning enjoyable celebrations while also helping ensure the health and safety of our fellow Denisonians.
While our fall plans remain tentative as we continue to monitor local, state, and national guidance around health and safety, we invite you to share any ideas you have with us at reunion@denison.edu.
We always have felt immense pride in the resilience and creativity of our Denison alumni. Despite current challenges, we also are reminded of the successes we have had and the lessons we have learned throughout the last year. With your continued engagement and support, we are confident we will be able to create meaningful ways to stay connected virtually until we can safely welcome you back on The Hill this fall.
Please watch your email and check this website for more details in the months ahead.
Sincerely,
Greg Bader
Vice President for Institutional Advancement
---
Future Reunion Dates by Class Year
| Class Year | Reunion | Date |
| --- | --- | --- |
| 2020 | 2nd Reunion | June 10 – June 12, 2022 |
| 2019 | 5th Reunion | May 31 – June 2, 2024 |
| 2018 | 5th Reunion | June 2 – June 4, 2023 |
| 2017 | 5th Reunion | June 3 – June 5, 2022 |
| 2016 | 5th Reunion | TBA |
| 2015 | 5th Reunion | TBA |
| 2014 | 10th Reunion | May 31 – June 2, 2024 |
| 2013 | 10th Reunion | June 2 – June 4, 2023 |
| 2012 | 10th Reunion | June 3 – June 5, 2022 |
| 2011 | 10th Reunion | TBA |
| 2010 | 10th Reunion | TBA |
| 2009 | 10th Reunion | May 30 – June 1, 2025 |
| 2008 | 15th Reunion | June 3 – June 5, 2022 |
| 2007 | 15th Reunion | June 3 – June 5, 2022 |
| 2006 | 15th Reunion | June 3 – June 5, 2022 |
| 2005 | 20th Reunion | May 31 – June 2, 2024 |
| 2004 | 20th Reunion | May 31 – June 2, 2024 |
| 2003 | 20th Reunion | May 31 – June 2, 2024 |
| 2002 | 20th Reunion | TBA |
| 2001 | 20th Reunion | TBA |
| 2000 | 20th Reunion | TBA |
| 1999 | 25th Reunion | May 31 – June 2, 2024 |
| 1998 | 25th Reunion | June 2 – June 4, 2023 |
| 1997 | 25th Reunion | June 3 – June 5, 2022 |
| 1996 | 25th Reunion | TBA |
| 1995 | 25th Reunion | TBA |
| 1994 | 30th Reunion | June 2 – June 4, 2023 |
| 1993 | 30th Reunion | June 2 – June 4, 2023 |
| 1992 | 30th Reunion | June 2 – June 4, 2023 |
| 1991 | 30th Reunion | TBA |
| 1990 | 30th Reunion | TBA |
| 1989 | 30th Reunion | TBA |
| 1988 | 35th Reunion | June 3 – June 5, 2022 |
| 1987 | 35th Reunion | June 3 – June 5, 2022 |
| 1986 | 35th Reunion | June 3 – June 5, 2022 |
| 1985 | 35th Reunion | May 30 – June 1, 2025 |
| 1984 | 40th Reunion | May 31 – June 2, 2024 |
| 1983 | 40th Reunion | June 2 – June 4, 2023 |
| 1982 | 40th Reunion | June 3 – June 5, 2022 |
| 1981 | 40th Reunion | TBA |
| 1980 | 40th Reunion | TBA |
| 1979 | 45th Reunion | May 31 – June 2, 2024 |
| 1978 | 45th Reunion | May 31 – June 2, 2024 |
| 1977 | 45th Reunion | TBA |
| 1976 | 45th Reunion | TBA |
| 1975 | 45th Reunion | TBA |
| 1974 | 50th Reunion | May 29 – June 1, 2024 |
| 1973 | 50th Reunion | May 31 – June 3, 2023 |
| 1972 | 50th Reunion | June 1 – June 4, 2022 |
| 1971 | 50th Reunion | TBA |
| 1970 | 50th Reunion | TBA |
| 1969 | 55th Reunion | May 31 – June 2, 2024 |
| 1968 | 55th Reunion | June 2 – June 4, 2023 |
| 1967 | 55th Reunion | June 3 – June 5, 2022 |
| 1966 | 55th Reunion | TBA |
| 1965 | 55th Reunion | TBA |
| 1964 | 60th Reunion | May 31 – June 2, 2024 |
| 1963 | 60th Reunion | June 2 – June 4, 2023 |
| 1962 | 60th Reunion | June 3 – June 5, 2022 |
| 1961 | 60th Reunion | TBA |
| 1960 | 60th Reunion | TBA |
| 1959 | 64th Reunion | May 31 – June 2, 2024 |
| 1958 | 65th Reunion | June 2 – June 4, 2023 |
| 1957 | 65th Reunion | June 3 – June 5, 2022 |
| 1956 | 65th Reunion | TBA |
| 1955 | 65th Reunion | TBA |
| 1954 | 70th Reunion | May 31 – June 2, 2024 |
| 1953 | 70th Reunion | June 2 – June 4, 2023 |
| 1952 | 70th Reunion | June 3 – June 5, 2022 |
| 1951 | 70th Reunion | TBA |
| 1950 | 70th Reunion | TBA |
| 1949 | 75th Reunion | May 31 – June 2, 2024 |
| 1948 | 75th Reunion | June 2 – June 4, 2023 |
| 1947 | 75th Reunion | June 3 – June 5, 2022 |
| 1946 | 75th Reunion | TBA |
| 1945 | 75th Reunion | TBA |
| 1944 | 75th Reunion | May 31 – June 2, 2024 |
| 1943 | 80th Reunion | June 2 – June 4, 2023 |
| 1942 | 80th Reunion | June 3 – June 5, 2022 |
| 1941 | 80th Reunion | TBA |
| 1940 | 80th Reunion | TBA |