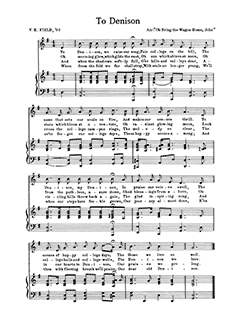 Download the sheet music (PDF)
A Denison tradition, the alma mater is sung to close many official functions including the First-Year Induction Ceremony, the Academic Awards Convocation, Alumni Reunion Convocation, Commencement, and at various alumni gatherings around across the country and around the world. The text for "To Denison" was written by V.E. Fields, Denison class of 1903, and it is set to the traditional tune of "Oh Bring the Wagon Home, John."
Just as Denison evolves, so has its alma mater. The original arrangement is the most commonly heard version (you can view the sheet music here), yet members of the Denison family have added a few unique twists. Here is a little background on each of the recordings that you can play below:
The standard choral version, performed by the Denison A Cappella Choir, dates to the 1950s.

---
"Swasey Chapel Bells" will remind any Denisonian of a quiet walk across campus.

---
For decades, the Hilltoppers have reigned as Denison's leading all-male a capella group. Here, they pay tribute to the college with their own rendition of the alma mater.

---
As one of Denison's newer (but hugely popular) musical traditions, the Bluegrass Ensemble debuted their take on the alma mater at the First Year Induction Ceremony for the Class of 2015.

---
As his graduating gift to Denison, Eric "Harry" Brisson '11 collaborated on this arrangement with music professors Ching-Chu Hu and Pete Mills during his final semester. He performs it here with accompaniment by Aaron Bennett '13, Simon Mont '11, Nathaniel Crawford '14, and Adam Safer '14.