Andrew R. Levitt, 2001
B.A., Denison University


Drag Performer, Activist, Singer, Actor

Columbus, Ohio
---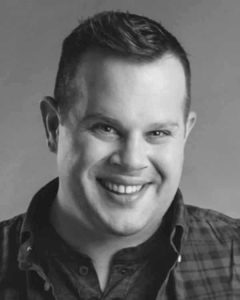 Andrew Levitt is also known by his stage name, "Nina West." He has received international acclaim as a drag queen, activist, actor, and singer-songwriter.
Perhaps most notably, Nina was featured on the 11th season of RuPaul's Drag Race, where he finished in sixth place and was crowned Miss Congeniality. His popularity from the show launched him from a popular Columbus drag performer and gay rights activist to one of the most recognizable drag queens in the world, appearing on the cover of New York Magazine for "The Most Powerful Drag Queens in America" article.
Andrew's career has spanned marketing management and numerous areas of the entertainment industry, including television, stage, books, and digital media. He has participated in more than 35 stage productions in Columbus alone. Beyond his Columbus roots, he has narrated the Oscar-shortlisted animated short, "Coaster," voices a character in the Comedy Central web series, "Loafy," and hosts the "Drag Cast with Nina West" podcast. He was the National Entertainer of the Year pageant winner in 2008. 
Andrew has appeared in advertising campaigns for national brands Pantene, Pepsi, Lane Bryant, and in 2020 he partnered with Country Legend Dolly Parton on the "Dolly X Nina: Kindness Is Queen" apparel and accessories collection with proceeds benefiting Dolly Parton's Imagination Library to increase youth literacy. 
Andrew can be seen in appearances around the world at nightclubs, performance halls, and festivals. He has appeared on a number of television shows, including The View and The Today Show. He even made television history as the first person to walk the Emmy "purple carpet" in drag at the 71st Emmy Primetime Awards in 2019, where his season won five Emmys.
Levitt crusades for the LGBTQIA+ community and has fronted campaigns promoting gay marriage, equality, inclusivity, access to health care, and so much more.
He estimates the Nina West Foundation, established with the Columbus Foundation in 2015, has now raised about $3 million for nonprofits and charities, including ACLU of Ohio, Dress for Success, Equitas Health (HIV/AIDS Programs), and Kaleidoscope Youth Center, the largest LGBTQIA youth center in Ohio.
As a Denison student, Andrew was active in DCGA and La Fuerza Latina, and he was a Young Research Scholar and Summer Scholar. He has maintained his connection to Denison as an alumnus in many areas of service. Andrew volunteered on his Class Reunion Committee, as well as June-O. He has supported WDUB, the Singers Theatre Workshop, and was presented with a Theatre Department award.
When asked about his fondest memories of Denison, Andrew shared his love for the year-end theatre party, Coconuts. "It was just the best. All the students from the department would get together and celebrate the year. I don't know. Those were some of my favorite moments. It was one of those things that I have experienced since. And those people, my friends, were just the best. I am so grateful for my time on The Hill with the people I got to share it with."