Bruce E. Behrens, 1966
B.A., Denison University
M.B.A., University of Michigan


Retired Finance Executive

Vero Beach, Florida
---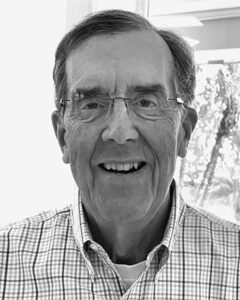 Bruce Behrens retired as a partner and portfolio manager for Brown Advisory in 2012. He joined Brown Advisory in 2008 when they acquired Alex. Brown Investment Management (ABIM), as prior to this, he had been co-president of ABIM. These two Baltimore-based firms were spinoffs of the venerable local investment house Alex. Brown & Sons, the remnants of which were acquired by Deutsche Bank in 1999. ABIM began in 1974 as a subsidiary of the investment bank, and it became fully independent in 2001 when its managers bought the firm. Bruce was also a partner in Buppert, Behrens & Owen, Inc., a company organized and owned by him and two of his fellow (ABIM) employees, and which owned 50% of ABIM from 1986. 
In 1966, Bruce graduated from Denison with a Bachelor of Arts in economics. A week after graduating, he married Polly Placek, and they moved to Ann Arbor, where he attended the University of Michigan for business graduate school. He received his M.B.A. in 1968. 
Following graduation from the University of Michigan, Bruce and Polly moved east, first living four years in New York, then moving to Baltimore. Bruce spent 40 years in the investment management business, including positions as a portfolio manager and research analyst for Corbyn Associates, Investment Counselors of Maryland, and Citibank. 
Throughout his career, Bruce has been an active volunteer and philanthropist in his community. He has served as a board member and chair of the board for Mentoring Male Teens in the Hood and the Woodbourne Center. He also served as a board member of Teach for America in the Baltimore area and participated in other organizations focusing on at-risk children and education. In addition to lending his time and talent, he supports a number of worthy organizations and causes along the east coast. 
While at Denison, Bruce was an ROTC cadet and a brother of Delta Upsilon fraternity. Both he and Polly have a deep commitment to issues of affordability and opportunity in education and continue to give back to Denison. They established the Bruce '66 and Polly Behrens Student Access Support Fund for International Programs to ensure that students have the opportunity to participate in a life-changing study abroad experience while at Denison, regardless of financial means. He also has remained a faithful and loyal donor to the Denison Annual Fund, generously supporting myriad programs at Denison. 
In addition to Bruce's philanthropic support of Denison, he has remained an active and engaged Denisonian since graduating. He has served as a career advisor, peer rater, and, most recently, a campaign feasibility study participant in 2022. 
Bruce and Polly now reside in Vero Beach, Florida. They have three adult daughters, Amy, Katherine, and Amanda, and a host of loving grandchildren.