Dana Hart, 1976
B.A., Denison University
M.A., Columbia University Teachers College


Executive, Teacher, Denison Life Trustee

New York, N.Y.
---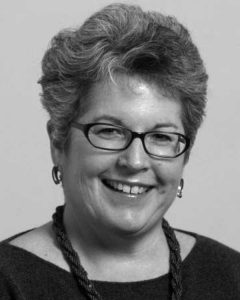 After graduating from Denison, Dana went to New York, where she spent 12 years with CBS, moving through the ranks to a top-level executive position in audience research. Changing direction in her career, she enrolled at Columbia, earning her teaching credentials in 1995.
She taught fourth grade in a New York City public school and was co-chair of her school leadership team and National Science Foundation District Liaison, as well as mentoring more than a dozen teachers-in-training during her six-year career. 
In 2001, she accepted a position with the Ethical Cultural Fieldston School, teaching science to third-grade and fourth-grade students. Dana served three years as a faculty representative to the Board of Trustees at the Ethical Culture Fieldston School and nearly three years as chair of the Faculty Council until her retirement in 2015. She recently co-chaired a strategic planning committee for the school, facilitating the architectural master plan for the four campuses.
Dana's service to Denison spans three decades, beginning with serving as president of the New York Alumni Club and working as a peer rater in 1991. She served as a trustee from 1993 to 2018 and was granted life trustee status in 2018. She was an Organizational Studies volunteer in 2001, as well as a President's Associates volunteer from 2001 to 2007. She served as vice-chair of the Board from 2009 to 2016 and was a Reunion Gift Committee member during that same time.
Dana has also supported campaigns as a campaign feasibility study participant in 2015 and Executive Committee member in 2016. She was a co-chair of the recent Unlocking Potential Capital Campaign, which had the highest financial attainment in Denison's history. She has volunteered as a participant and speaker at Women for Denison and served as the vice-chair of the PanHellenic Council through Pi Beta Phi.
Dana's commitment to, and support of, Denison is also demonstrated by her being a regular donor to the Annual Fund since graduation. Her generous gifts have supported campaigns, the Michael D. Eisner Center for the Performing Arts, and a fund to provide technology in classrooms.