James G. Thorne, 1963
B.A., Denison University
M.B.A., Booth School of Business, University of Chicago


Retired Business Executive and Leadership Coach

Indianapolis, Indiana
---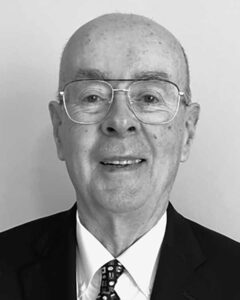 For 18 years, Jim Thorne operated The Thorne Group in Indianapolis, a leadership coaching and consulting firm helping individuals and teams in public and private companies, as well as non-profits and faith-based organizations, to create value for their businesses. He provided leadership consulting, executive coaching, strategic planning workshops, and expert advice on talent assessment and leadership development. Now, though, his business card reads, "Retired from business and active in retirement."
Jim graduated from Denison with his Bachelor of Arts in history in 1963. He was a member of the varsity soccer team, lettering all four years, was a junior residential advisor, and was the chair of the student auto court. He was elected to Omicron Delta Kappa honor society, was a brother and president of Lambda Chi Alpha fraternity, and was president of the Interfraternity Council during his years on campus.
Following graduation from Denison and after earning an MBA, Jim began a successful human resources career with Monsanto Company. After initial positions in manufacturing and the agriculture division, he subsequently held positions in corporate compensation. He led human resources at Monsanto Textiles and as vice president of human resources at Fisher Controls International, where a USA-centric company was transformed into a successful global enterprise. In 1993, he joined Hillenbrand Industries as vice president of HR for Hill-Rom, and then as head of HR for all of Hillenbrand. In 1998, he retired from Hillenbrand and moved to Indianapolis following his marriage to Jayne Moynahan in 1997. From 1999 to 2010, he served as a senior associate at Leadership Ventures.
Throughout his career in corporate and personnel management, Jim has continued to support Denison with a deep and longstanding commitment. He was co-president of his local alumni club, a member of the Alumni Council, and an alumni-nominated member of the Board of Trustees. He was co-chair of the Annual Fund and has remained a regular supporter of both the Annual Fund and multiple capital campaigns. A major contributor to Denison's expansive Mitchell Center, Jim's name appears on a plaque in the building that reads, "made possible in honor of good sports and good humor." 
Most recently, Jim co-chaired the 60th Reunion of his 1962 soccer team that won the NCAA Small College Regional Soccer Tournament. He has also been a regular member of his Class of 1963 Reunion Committees and remains lifelong friends with many classmates.
Along with Jayne, Jim is actively involved in his community. Their activism has been centered around church leadership roles and fundraising. The two served for 10 years as a Big Couple with Big Brothers Big Sisters and are strong boosters of the program. They were paired with a "little," Damon Karl, who is now embarking on a successful career as a singer/songwriter. Jim served on the two-person consulting team that guided the local merger of Big Brothers and Big Sisters. Both also served as Court Appointed Special Advocates, serving as the voice of children in cases before the juvenile courts.
Jim and Jayne's charitable gifts focus on their local church, the United Way of Central Indiana, Planned Parenthood, the Indianapolis Urban League, and Dance Kaleidoscope, a professional modern dance troupe. He also supports the Booth School of Business at the University of Chicago, from which he graduated in 1965.
Jim and Jayne have four daughters, Becky, Sara, Maureen, and Meredith. Jim and Jayne currently reside in Indianapolis.