James Martin Erbaugh, 1970
B.A., Denison University
J.D., Case Western Reserve University School of Law


Business Executive, Entrepreneur, Denison Life Trustee

Hudson, Ohio
---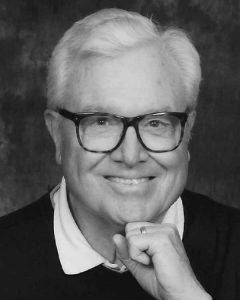 A native of Dayton, Ohio, James Martin "Marty" Erbaugh '70 majored in religion at Denison, where he was a member of Omicron Delta Kappa national leadership honor society. Upon graduation, he was accepted into Yale Divinity School, but he chose not to attend. Instead, he decided to pursue his J.D. from Case Western Reserve University School of Law in Cleveland. Following graduation from law school, Marty remained in northeastern Ohio, where he achieved remarkable success as a business developer and entrepreneur.
Firms he founded from the late 1970s through the mid-1990s include JM Erbaugh Co., a private investment company first focused on the horticulture service industry; Erbaugh Corp.; and Lawnmark, a lawn care company serving more than 100,000 customers in six states. Before that, he was general manager of the lawn care division of Davey Tree Expert Company, founded by his wife's great grandfather, John Davey, in 1880. It was at Denison that Marty met his wife-to-be, Lynnie Myers '70, and the two married in 1971.
Marty stayed close to Denison, serving on the Board of Trustees from 2002 to 2016 and chairing the Buildings & Grounds Committee. His insights and expertise helped to guide momentous enhancements to Denison's campus, including the addition of significant spaces such as the Burton D. Morgan Center, Samson Talbot Hall of Biological Science, the Michael D. Eisner Center for the Performing Arts, and the Reese~Shackelord Common, as well as numerous improvements to academic and residential buildings.
He was particularly influential in both the funding and construction of the Burton D. Morgan Center. Having been friends with the late Burton Morgan in Hudson, Ohio, and serving as a trustee of the Burton D. Morgan Foundation, Marty was instrumental in advancing Morgan's entrepreneurial vision.
In addition to his service as a university trustee, Marty also served Denison as a volunteer with the Higher Ground Campaign, Reunion and Leadership Gift Committees, the Organizational Studies Program, Denison Entrepreneurship Program, and as a career adviser.
Denison wasn't the only beneficiary of Marty's incredible generosity. Merging his lifelong love for music and leadership experience, he served a six-year term on the board of the Rock & Roll Hall of Fame in Cleveland. Marty helped found the Roy Orbison Fan Club and hosted Roy's son, Wesley, along with Bill Dees, co-writer with Orbison on the famous song, "Pretty Woman."
During a trip to the Out Islands of the Bahamas with his wife and her family, he fell in love with the place and people, eventually building a home on the island of Eleuthera. He became a staunch supporter of the One Eleuthera Foundation and the Island School, which offers immersion experiences in the natural and cultural environment to model sustainability and create community.
Marty passed away on May 12, 2019, before the Eisner Center was dedicated. In addition to his beloved wife, Lynnie, he is survived by daughters Carolyn, Darby, and Lindsay '04; a brother, Mark Erbaugh; and grandchildren Avery and Jack Harris. Marty is missed dearly and remembered fondly by the entire Denison family.