Jeanne Swickard Hoffman, 1968
B.S., Denison University
M.S., University of Pittsburgh 1971
Ph.D., University of Hawaii 1985


Pediatric Psychologist
Tripler Army Medical Center
Honolulu, Hawaii
---
Citation awarded May 2018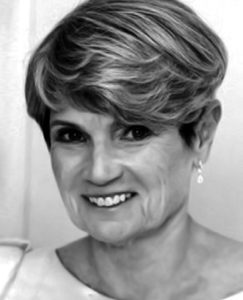 Jeanne went directly from Denison to the University of Pittsburgh's Ph.D. program but transferred to the University of Hawaii to complete her doctorate in developmental psychology after teaching for six years at Hawaii Loa College. During her research on the effects of prenatal exposure to Heptachlor on infant development, she became interested in pediatric psychology, focusing on the intersection of psychological and physical health in children. She entered the Child Clinical Respecialization program at UH immediately after receiving her Ph.D., then trained in pediatric psychology at Boston Children's Hospital and was subsequently offered a fellowship at Boston Children's and Harvard.
She returned to Hawaii as the first pediatric psychologist in the state, opening a private practice and educating pediatricians about the contribution this area could make to the care of their patients. She served both inpatient and outpatients at Kapiolani Medical Center.
In 2001, she was recruited by Tripler Army Medical Center to expand their services to include pediatric psychology. Jeanne is a member of a number of pediatric multidisciplinary teams including oncology, cystic fibrosis, and feeding, as well as consulting to general pediatrics and other pediatric specialties. She sees both inpatients and outpatients and is a member of Tripler's Ethics Committee. She is proud of her contributions to the health and lives of military children and families.
Jeanne is board certified in clinical child and adolescent psychology and a fellow of the American Academy of Clinical Child and Adolescent Psychology. She is on the faculty of two med schools in psychiatry and pediatrics and was on the APA's Task Force on Military Deployment Services for Youth, Families, and Service Members.
Jeanne was married to David Hoffman '67 for 29 years, has lived in Hawaii for 46 years, and is the mother of Christiana Inesi and Cordes Tarantino, as well as the doting grandmother of two. She will retire from Tripler this summer but will continue a small private practice. She looks forward to lots of travel, horseback riding, and returning to golf.