Margaret Hughes Rakowsky, 1965
B.S., Denison University
Ph.D., University of California at Riverside


Retired Chemist and Educator

Greenwood Village, Colorado
---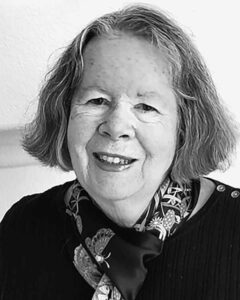 Marge Rakowsky leads a life devoted to education and service. While earning her Bachelor of Science in chemistry at Denison, she was active in the Denison Campus Governance Association, culminating in her election as co-vice president. The summer between her junior and senior years she conducted research with Dr. John Brown, funded by an American Chemical Society grant. Both experiences were important influences on her life after Denison.
Following graduation in 1965, Marge earned her M.A.T. degree from Johns Hopkins University. She married Ron Rakowsky '66, taught chemistry, and served as science department chair at Solon High School in Solon, Ohio. At the time, the public was increasingly aware of environmental and climate issues. With the first Earth Day being celebrated in the United States on April 22, 1970, Marge organized an all-school, town hall-style event for the day. In addition, during her tenure at Solon High School, she made significant changes to the chemistry curriculum and took students to the Ohio Academy and Junior Academy of Science meetings at Ohio State and Bowling Green universities.  
In August 1970, Ron entered active duty in the U.S. Air Force.  Marge and Ron left Ohio for Tampa, Florida. For the next 10 years, Marge dedicated herself to raising the couple's children, and volunteering at the base, with her sorority, and in the community — all the while supporting Ron in his Air Force career. While Ron was stationed in Texas, Marge was a founding member and board vice chair of the Schertz Public Library. Previously, the closest library in her county was 30 miles away.
In 1980 at the University of California at Riverside, Marge returned to chemistry, first as a teaching associate, then directing the general chemistry TA program. She subsequently enrolled in a doctoral program at UC Riverside, culminating in her Ph.D. in 1985. Marge and their children, Catherine (Denison '92) and Robert, joined Ron who was assigned to the Pentagon. Marge began a postdoctoral fellowship at the Naval Research Laboratory in Washington, D.C. In the summer of 1988, as Catherine enrolled at Denison and Robert started high school, the family moved to Colorado, where Ron had been assigned as the staff judge advocate at the Air Reserve Personnel Center in Denver. There, Marge began teaching and conducting research at various Colorado universities.
Marge and Ron have lived in Colorado for 35 years. Marge spent 14 years (until term-limited) as an elected member of the board of South Metro Fire Rescue. Concurrent with that service, she was the representative of fire districts on Colorado's Special District Association board. She taught chemistry and conducted research at the University of Colorado at Denver, received a National Science Foundation Career Advancement Award to work with Dr. Gareth Eaton at the University of Denver, and was a senior research associate at the F.J. Seiler Research Laboratory at the U.S. Air Force Academy. When the Seiler Lab closed, she taught chemistry at Regis University in Denver until beginning her teaching career at the Air Force Academy. She retired in 2016 after 19 years at USAFA.
Several activities at the Air Force Academy were especially meaningful to Marge. She served as the Cadet Summer Research Program representative for the chemistry department, sending cadets to the Air Force Research Labs; the CIA; National Labs at Lawrence Livermore, Sandia, and Los Alamos; the Air Force Drug Testing Lab; and the Defense Forensic Sciences Center. For several  summers, she spent six weeks at Lawrence Livermore, participating in research at the High Explosive Applications Facility. She taught cadets general chemistry, inorganic chemistry, and advanced laboratory techniques and mentored chemistry majors as their academic advisor or in research.
Marge also served her discipline as secretary of the Colorado Section of the American Chemical Society for 22 years and as an organizer for several Rocky Mountain Regional ACS Meetings. In November 2020, she received the E. Ann Nalley Rocky Mountain Region Award for Volunteer Service in recognition of and with gratitude for her many years of dedicated service to her Local Section, ACS National, and especially the Rocky Mountain Region.
Marge and Ron remain committed to Denison. They both have served on Denison's Board of Advisors and several Class Reunion Committees. They have established an endowed fund to support summer student research. The idea for the Rakowsky Family Endowed Fund for Summer Scholars came from Marge's Denison research experience the summer of 1964 and her extensive involvement at the USAFA helping cadets find the appropriate summer research opportunities that fit their demanding schedules.
Ron, with his extensive Air Force service and involvement at the local level with special districts, county offices, city council, and mayor of Greenwood Village, Colorado, supported the idea of alternating the support of a chemistry or science undergraduate with the support of a history or political science major who was interested in the functioning of governments at the local and state levels.