Marnie Kennard Sarver, 1968
B.A., Denison University
J.D., Duquesne University School of Law


Television Executive and Communications Attorney

Arlington, Virginia
---
Citation awarded May 2018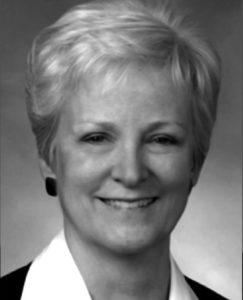 Marnie began her learning career in a foreign language as the only English-speaking child in a two-room village school near Paris, France.
The classic first-grade French curriculum of reading, arithmetic, spelling, history, recitation, penmanship — and knitting — suited her curious mind and began years of French studies that culminated in a French major at Denison. Then her life took another direction.
Using writing skills honed at Denison, she returned to her Washington, D.C.-area home and the late '60s regulatory fervor that produced consumer product safety legislation and a ban on cigarette advertising on TV. Reporting on government affairs for the American Advertising Federation, she was introduced to the role of government in commerce and the media.
Marriage and a move to Pittsburgh led her to the area's NBC network television affiliate, more writing, and more exposure to government oversight. While producing documentaries, studio dramas and news programs from 1972 to 1979, she three times authored the station's application to renew its FCC license — successfully deflecting groups who threatened to protest relicensing. No surprise when, in 1975, she enrolled in law school, then returned to D.C., to practice communications law — a career that lasted
37 years, until her retirement in 2015. She counseled some of the nation's largest broadcasters (Gannett and Clear Channel) and some of the smallest (a station in Bardstown, Ky., the bourbon capital of the world).
Though she loved her work, she has other loves: Her husband, Jack, the anchor of her life for 47 years; their son, Jonathan, Denison Class of 2012; Shrine Mont, the retreat center of the Episcopal Diocese of Virginia, where she serves on the Board of Directors and tends the extensive floral gardens; Denison, having attended all but one reunion since the 10th, chairing two of them, and serving on Alumni Council from 2011 to 2014; and her church, where she and Jack enjoy an extended church family and serve on too many committees.