Martha Hall, 1980
B.A., Denison University
MBA, Tuck School of Business at Dartmouth College


Civic Volunteer and Life Trustee

Louisville, Kentucky
---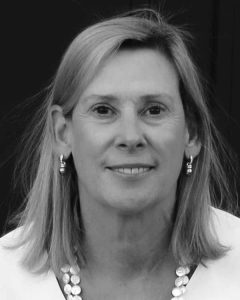 Martha dedicates her days to serving others in her community. After earning her undergraduate degree from Denison University, Martha built a successful career in finance and investment banking, working at companies like Data Resources, Inc.; Merrill Lynch & Co.; and LG&E Energy Corporation.
Martha has tangibly strengthened the social fabric in Louisville, Kentucky. Martha supports several organizations through her family foundation, including the James Graham Brown Dunbar CAR T-cell Program, Speed Museum, and Louisville Library Foundation. She served on the Community Foundation of Louisville's investment committee and is the treasurer and a member of the Second Presbyterian Weekday School board of directors.
One of the organizations closest to Martha's heart is Louisville Collegiate School, a junior kindergarten through 12th-grade school founded in 1915 and serving more than 600 students. Martha is a former president of the school's board of directors and gives philanthropically to the school and other local educational institutions.
Martha's commitment to serving others extends to her alma mater as well. Martha served as a Denison University trustee from 2000-2013, at which time she was awarded life trustee status. Martha served on the Finance and Audit Committee and the Honorary Degrees Committee during that time. She was Vice-Chair of the Academic Affairs Committee from 2010-2013.
Martha participated in the Reunion Gift Committee for 2020-2021. She shared her professional insight as a career advisor from 1995-1999, has been a class reunion volunteer since 1999, served on Alumni Council in 1996, was a campaign volunteer in 1994, and has participated in a campaign feasibility study. Martha has been a regular contributor to the university's annual fund since she graduated and has been a major gift donor for the last 20 years, directly supporting several endowed funds.
While studying at Denison University, Martha participated in Phi Beta Kappa, Denison Campus Government, and Pi Beta Phi. She was also a resident hall leader.
Martha's connection to Denison University extends to other family members — namely her father, Wally, mother Ellen, sister Laura, and brother Jon, who also attended Denison.
Martha and her husband, Tom, live in Louisville, Kentucky, and have four children and two grandchildren.