Oyauma M. Garrison, 1996
B.A., Denison University
MBA, Franklin University


Insurance and Nonprofit Executive

Columbus, Ohio
---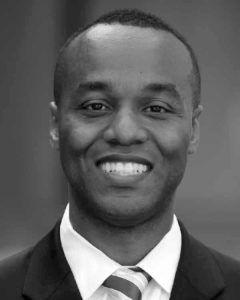 Oyauma Garrison serves as the president and chief executive officer at A Kid Again, Inc., a nonprofit organization that provides ongoing adventures for kids facing life-threatening conditions. Previously, he was an insurance company executive of over 20 years at State Farm, Nationwide, Allstate, and Jacobson.
On June 29, he will begin his new appointment as CEO of Maryhaven, Inc., Central Ohio's oldest, most comprehensive treatment center for addiction and mental illness, and the region's eighth-largest nonprofit organization.
Active in the community, Oyauma has received numerous awards for leadership and community service. Honors and recognition include Top 50 Smart Business Leaders, CEO of the Year finalist — Columbus CEO, a Columbus Business First Most Admired C-Suite leader, and NBMBAA Lifetime Achievement Award. He has received an honorary doctorate from Franklin University for his community leadership. Oyauma has been featured in several publications and delivered his first TedTalk on corporate social responsibility in 2016. He has been recognized with the United States of America Presidential 2014 Gold Standard Award for Community Service. Additionally, Oyauma has been recognized twice by the Ohio General Assembly and by the Columbus City Council for his leadership.
Oyauma received his B.A. from Denison and his MBA from Franklin University. While at Denison, he was involved with DCGA and WDUB. He was also a member of Alpha Phi Alpha. Oyauma has served on Denison's Board of Advisors since 2019, on Alumni Council from 2003 to 2007, and as a career advisor from 1996 to 1999. He is also involved with the Black Alumni Association.
A native of Baltimore, Md., Oyauma is married to Dr. Sacheen Davis Garrison and the proud father of Mya, Cameron, and Carter. Oyauma and Sacheen are both members of the Denison Class of 1996.