Richard J. Bodorff, 1971
B.A., Denison University
J.D., Vanderbilt University


Broadcasting Executive, Attorney, Denison Trustee Fellow

Easton, Md.
---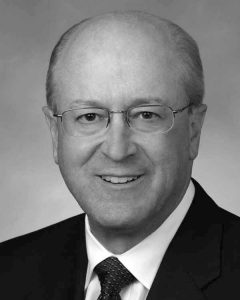 Following graduation from Denison in 1971, Dick Bodorff earned his J.D. at Vanderbilt University School of Law and worked for several years in the General Counsel's Office at the Federal Communications Commission in Washington, D.C. He entered the private practice of communications law in 1976. Dick is now Senior Counsel at Wiley Rein LLP, with which he has been associated for more than 30 years.
Dick's career coincided with a period of consolidation in the broadcasting industry. He represented two of the major consolidators — Clear Channel Communications and Nexstar Media Group. Clear Channel, now iHeartMedia, grew to be the largest owner of radio stations in the U.S. (850 stations in 153 markets). Nexstar became the largest TV station owner in 2019 with its acquisition of the TV assets of the Tribune Co. (198 stations in 116 markets).
Dick received the Ward L. Quaal Leadership Award from the Broadcasters Foundation of America in recognition of his service to the industry, and he was named to the Hall of Fame of the Multicultural Media, Telecom, and Internet Council for his work fostering minority ownership of the media.
Dick has a history of involvement in public broadcasting. He is past chair of the Board of Common-wealth Public Broadcasting Co., now Virginia Public Media, which operates PBS/NPR facilities in Richmond and the Northern Virginia suburbs of Washington, D.C., and past vice-chair of the Board of America's Public Television Stations, the government relations arm of public television. He is currently vice-chair of the Maryland Commission on Public Broadcasting, which operates six PBS affiliates serving Maryland and Washington, D.C., as well as a member of the Board of Directors of the MPT Foundation, which supports these operations.
At Denison, Dick served as President of DCGA, co-chaired a committee that activated WDUB-FM, was a columnist for the Denisonian, and was a member of ATO and ODK. Since graduation, Dick has served as an alumni-nominated trustee, president of the Washington Alumni Club, a member of the Board of Advisors, and co-chair of the Legacy Committee of the Class of '71 50th Reunion Committee.
Dick and his wife Ellen reside on Maryland's Eastern Shore. There, Dick is the past chairman of the boards of the 40,000-member YMCA of the Chesapeake and the Academy Art Museum, both in Easton, Md. He is currently chair of the Board of Governors of the Chesapeake Bay Maritime Museum in St. Michaels, Md. Dick received the 2019 Distinguished Citizen Award from the Del-Mar-Va Council of the Boy Scouts of America for community service.
The Bodorffs have a fondness for international travel, which began with a mid-'80s Denison-sponsored cruise in the Eastern Mediterranean. Since then, they have traveled to more than 100 countries on all seven continents.