Ro Nita B. Hawes-Saunders, 1973
B.A., Denison University
M.A., Ohio State University


Chief Executive Officer
Dayton Contemporary Dance Company
Dayton, Ohio
---
Citation awarded May 2018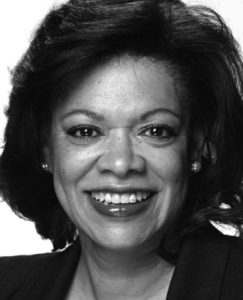 Ro Nita is currently the CEO of the internationally acclaimed Dayton Contemporary Dance Company.
She became one of fewer than 10 African-American women in the U.S. to build a successful broadcasting property, Hawes-Saunders Broadcasting Inc., from the ground up in 1991 in her native Dayton, Ohio.
As an entrepreneur, Ro Nita earned accolades for her landmark success and community service, such as the Marconi Radio Award (the nation's top radio broadcasting award) and several National Black Programming Coalition awards. Radio Inc. magazine named her among the top 25 African-American leaders in the radio industry, and she has received several ABC Station-of-the-Year awards. She is an advocate for business ownership by minorities and women and has won numerous national awards for her service, dedication, and commitment to this cause.
In 2005, Ro Nita became CEO of Dayton Contemporary Dance Company, a globally recognized African-American performing arts company. It is the oldest modern dance company in Ohio and possesses the world's largest repertoire of classic works by African-American choreographers. Under her leadership, DCDC adopted an innovative and revenue-producing business model by partnering with colleges. It has earned a number of distinguished awards, including the New York Dance and Performance Award, contemporary dance's highest honor; and the Irma Lazarus Award, the Ohio Arts Council's top artistic prize. The company tours worldwide, and the U.S. Department of State has invited DCDC to tour Russia in 2018.
Ro Nita, who served as a Denison trustee from 1993 to 2017 and is now a life trustee of the college, attributes her success to her liberal arts education and her Denison professors in theatre, cinema, and English.
She resides in Dayton, where she monitors the healthcare of her elderly mother, and Ro Nita, herself, is the proud mother of her recently married daughter, Donnica Hawes-Saunders Mulzac, a graduate of Spelman College and the University of Dayton School of Law, to whom she continues to be a mentor and role model.