Ronald C. Baldwin, 1968
B.A., Denison University
MBA, University of Michigan


Retired Banking Executive

Bonita Springs, Florida
---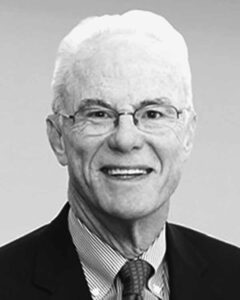 Ron Baldwin is a 40-plus-year veteran of the banking and financial services industry with a depth of experience in managing growth and innovation in retail banking. His most recent executive position was vice chairman of Huntington Bancshares, Inc., where he was appointed by fellow Denison alumnus Tom Hoaglin '71 in 2001. Ron served at Huntington until his retirement in 2006. Prior to joining Huntington, Ron was president of the Retail Banking Group for Bank One Corporation, now known as JPMorgan Chase, where his team transitioned retail delivery from a traditional geographic-focused consumer bank to a national retailer of best-in-class products. 
In addition to his extensive background in the financial industry, Ron is a military veteran, serving as an officer in the United States Coast Guard.
In 1968, Ron graduated from Denison with a Bachelor of Arts in economics. As a student, he was a brother of Lambda Chi Alpha fraternity. Following graduation, Ron and classmate Sandy Miller '68 married and began a tour of duty with the U.S. Coast Guard.  Ron reached the rank of lieutenant junior grade. He then entered graduate school at the University of Michigan, earning his MBA in 1972. 
Before his appointments at Bank One Corporation and Huntington Bancshares, Ron's professional career arc included serving as a commercial banker with Continental Illinois National Bank & Trust, becoming a vice president of the company. He joined the Marine Bank Corporation in Milwaukee, serving as chief financial officer, becoming president and chief operating officer of Bank One Milwaukee, and then serving as chairman and CEO of Bank One Wisconsin. 
In addition to his professional endeavors, Ron has served on the boards of publicly and privately held organizations. In the technology field, he was a member of Alogent Corporation's board of directors, and from 2007 to 2020, he was on Deluxe Corporation's board of directors, where he held positions on several board committees.
Wherever Ron has lived and worked, he has been deeply involved in his local community. He has served on the boards of the United Way in Milwaukee and Columbus, the Milwaukee Art Museum, Big Brothers and Big Sisters, and Habitat for Humanity, and he is a mentor for Take Stock in Children in Lee County, Florida. He also is a member of the Governing Committee of the Birchwood Outreach Fund in Harbor Springs, Michigan, a foundation that assists local charities in serving disadvantaged families, seniors, and children in Northern Michigan.  
Since graduating from Denison, Ron has remained committed and connected to the Denison community. He has served as a Class Reunion volunteer, a member of his Reunion Gift committee, and a career services volunteer. Along with sharing his time and talent with his alma mater, Ron has been a steadfast and generous contributor to the Denison Annual Fund, in addition to being a major gift donor. With fellow classmates and brothers of Lambda Chi Alpha, Ron established and built the Larkin N. Allen Scholarship fund at Denison. Ron says, "Larkin was our friend and brother at Denison, and we are glad his memory lives on as students receive financial support from his fund." 
Ron and Sandy reside in Bonita Springs, Florida. They have two children, Kate and Graham, and three grandchildren.