Sue Douthit O'Donnell, 1967
B.A., Denison University
M.B.A., Stanford Graduate School of Business


Retired Accounting Executive

Atherton, California
---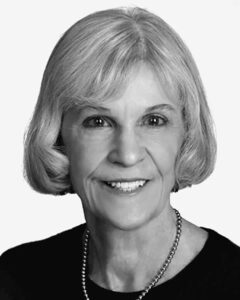 Sue graduated from Denison in 1967 with a Bachelor of Arts in government. After a trip to Europe led by then Denison professor John Huckaby, Sue worked in banking, first in New York City and four years later in San Francisco. In 1976 she received an M.B.A. from Stanford Graduate School of Business, graduating in the top 5% of her class. She then joined the Tax Department of Arthur Andersen & Co. in San Francisco, where her clients ranged widely from banks to a professional baseball team. In 1983, she left public accounting to join a real estate syndication firm. Four years later, Sue retired. 
Since her retirement, Sue has spent much of her time seeking to improve the state of nutrition knowledge and advice. She has provided financial support for nutrition research studies at Stanford University, UCSF, and others. Beginning in 2014, Sue has served as a "public reviewer" for the BMJ (formerly, "British Medical Journal"), a role in which she evaluates papers for publication from a non-professional's perspective. 
In addition to her nutrition-related passions and ventures, Sue and her husband, Bob, are co-founders and directors of the O'Donnell Foundation, a private non-profit that supports education and community needs organizations. Philanthropy is deeply important to Sue and her husband, and they have generously supported educational and arts initiatives. 
Sue provided a transformative gift and investment in the William Howard Doane Library, enhancing academic life on campus with the creation of Douthit Hall. Douthit Hall is an intellectual hub within the library that nurtures scholarship with its outstanding programs and extraordinary people. For Sue, her philanthropic contributions to Denison are personal, offering a chance to honor her parents, as her mother was a librarian and her father was a writer and editor. Books and libraries have been important in the lives of all the Douthits. 
In addition to her monetary support of Denison, Sue has served as a career advisor, a campaign feasibility study participant, an Annual Fund volunteer, an alumni fellows volunteer, and she was an active Women for Denison committee member. She is a steadfast donor to the Annual Fund and continues to positively impact the lives of current and future generations of Denison students with her generosity. 
While a student at Denison, Sue was a member of Delta Gamma sorority. Two of her Senior year suite-mates also were DGs, and all seven members of the "Sweet Suite" mates have remained connected. During the past year, they have enjoyed monthly Zoom sessions. 
Sue and her husband, Bob, live in Atherton, California.