An Evening with New York Times Bestselling Author, James Clear '08, in Conversation with President Adam Weinberg
Tuesday, June 28, 2022 7:00 pm EDT to 8:00 pm EDT
Gramercy Books in Bexley, Ohio
Register for this Event
---
Join Denison alumnus James Clear '08, #1 New York Times bestselling author of Atomic Habits, in an intimate gathering at Gramercy Books and in conversation with Adam Weinberg, President of Denison University. Atomic Habits is the most comprehensive and practical book on habit formation. It has sold over 7 million copies worldwide and has been translated into more than 50 languages.
A general admission ticket to attend the event at Gramercy Books is $15. That admission fee will be waived with the purchase of Atomic Habits.  
Proof of full vaccination is required to attend, and masks are encouraged
About the Book
Atomic Habits offers a proven framework for improving–every day. James Clear, one of the world's leading experts on habit formation, reveals practical strategies that leads to good habits, break bad ones, and master the tiny behaviors that lead to remarkable results.
Clear is known for his ability to distill complex topics into simple behaviors that can be easily applied to daily life and work. Here, he draws on the most proven ideas from biology, psychology, and neuroscience to create an easy-to-understand guide for making good habits inevitable and bad habits impossible. Along the way, readers will be inspired and entertained with true stories from Olympic gold medalists, award-winning artists, business leaders, life-saving physicians, and star comedians who have used the science of small habits to master their craft and vault to the top of their field.
Atomic Habits provides the tools and strategies to:
• make time for new habits (even when life gets crazy),
• overcome a lack of motivation and willpower,
• design one's environment to make success easier,
• get back on track when falling off course,
…and much more.
About the Author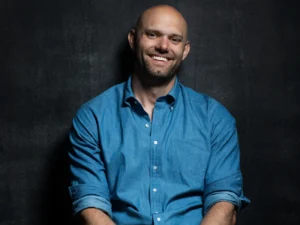 James Clear is a writer and speaker focused on habits, decision making, and continuous improvement. Along with authoring #1 New York Times bestseller, Atomic Habits, he is a regular speaker at Fortune 500 companies and his work has been featured in places like Time magazine, the New York Times, Wall Street Journal, and on CBS This Morning. His popular "3-2-1" email newsletter is sent out each week to more than 1 million subscribers. James graduated from Denison in 2008.
About the Moderator
Adam Weinberg became the 20th president of Denison University in 2013. Prior to coming to Denison, Dr. Weinberg served as president and CEO of World Learning, where he led education programs in more than 70 countries. Dr. Weinberg started his career at Colgate University where he was a member of the sociology and anthropology departments and also served as vice president and dean of the college. A native of Texas, Dr. Weinberg lives in Granville with his wife, Anne, and they have three children.