The Genetic Lottery: Why DNA Matters for Social Equality with Kathryn Paige Harden
Thursday, February 10, 2022 7:30 pm EST to 8:30 pm EST
Live-streamed event
Register for this Event
---
Join your fellow Denisonians for this insightful virtual event. Behavior geneticist Kathryn Paige Harden will be in conversation with Adam Davis, Director of the Lisska Center for Intellectual Engagement at Denison University, to learn about Harden's book, The Genetic Lottery: Why DNA Matters for Social Equality, a provocative and timely case for how the science of genetics can help create a more just and equal society.
Register in advance for this free virtual event. All Denison alumni, families, faculty, and staff can attend. After registering, attendees will receive a Zoom confirmation email containing information about joining the program.
In recent years, scientists like Kathryn Paige Harden have shown that DNA makes us different, in our personalities and in our health — and in ways that matter for educational and economic success in our current society.
In The Genetic Lottery, Harden introduces readers to the latest genetic science, dismantling dangerous ideas about racial superiority and challenging us to grapple with what equality really means in a world where people are born different. Weaving together personal stories with scientific evidence, Harden shows why our refusal to recognize the power of DNA perpetuates the myth of meritocracy and argues that we must acknowledge the role of genetic luck if we are ever to create a fair society.
Reclaiming genetic science from the legacy of eugenics, this groundbreaking book offers a bold new vision of a society where everyone thrives, regardless of how one fares in the genetic lottery.
This event is organized by Denison University's Lisska Center, in partnership with Gramercy Books.
About the author and moderator
Kathryn Paige Harden is a professor of clinical psychology at the University of Texas at Austin, where she is director of the Developmental Behavior Genetics Genetics Laboratory and co-director of the Texas Twin Project. She lives in Austin.
Adam Davis is the director of the Lisska Center for Intellectual Engagement and a professor of history at Denison. He lives in Bexley.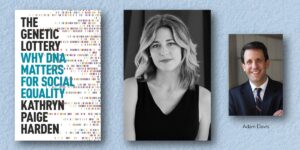 The mission of Denison University's Lisska Center for Intellectual Engagement is to support research and scholarship, foster intellectual community and academic enrichment, and provide interdisciplinary space for the open exchange of ideas, perspectives, and arguments.