Thank you for volunteering to make Denison Everywhere a success!
This event is one of the university's premier alumni and family events, and it would not be possible without your help. Thanks to your efforts, Denisonians in your area will recount fond memories and share inspiring stories while growing their Big Red networks.
We want you to have some fun with this!
Below is a guide to help you map out your successful event. We ask that you use social media and email as a tool to spread awareness to your network. Of course, we encourage you to connect with old friends through other forms of communication, too. Don't be afraid to get creative!
Remember: When you email fellow Denisonians in your area, you're not bothering them; they trust you as a fellow Denisonian, and you're encouraging them to attend a Denison tradition. When you post on social media, the Denison community will be thankful for your leadership. And finally, when familiar smiling faces meet new ones in person, it's going to feel special to know that you've helped to bring Denison back together across the globe!
Before the Event: Hosts have four main responsibilities
2. Volunteer Confidentiality
3. Promote Your Event Using Social Media
Use this outline and the templates below to spread the word to your networks via social media.
Registration is Live! (Early December)

Reminder (Early January)

On the day of the event! Share your excitement.
4. Send Three Emails
Use this outline and the templates below to send emails to local Denisonians. The university will provide you with an email list.
Introduce yourself and the event

Give a "two weeks left" reminder

Set expectations (How many people plan to attend? What should attendees wear? Is there parking available nearby? Will there be food or drink? Etc.)

Send final reminder 5-7 days before the event.
Social Media Guidance & Templates
General Guidance
Feel free to adapt the language and structure of each post to match your own voice and fit the social media networks you choose.
Use both Instagram and Facebook, if possible. If you aren't already in one, join a Facebook group of Denison alumni.
LinkedIn is another great way to access networks by region. 
Post in the "Denison University" LinkedIn group

Find the Denison University company page, then Click the sub-text which shows "Jane Doe & 100 other connections". Then, filter by location to your city. 

Shown Below: type something into the "search bar", then select "people".

Click "All filters" to filter people down to Denison alumni, then "location" to filter to your location. (In this example, you search for Chicago alums)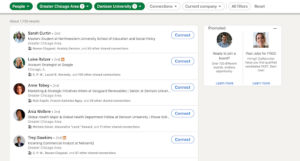 If you have an active Twitter account, definitely tweet about Denison Everywhere! Encourage your followers to retweet and spread the word. 
Hashtags to use on every social network
#DenisonEverywhere (Use capital letters to distinguish words, sort of like spaces)

#OnTheHill

#DenisonU

Tag Denison. On

Instagram use @denisonu. On

Facebook use @denisonuniversity.
Images You Can Use
Social media posts are always more engaging when you include an image. Feel free to save the images below to your device and include them in your post. Or include your own if they're related to the event. Choose a vertical or square image based on the platform to which you are posting.
Template 1: Registration is live! (Early December)
Text:
Granville doesn't have to feel so far away … Denison is coming to [city name]! #DenisonEverywhere On January 31, 2024, Denisonians will gather in cities around the globe. This year, the exciting get-together includes [city name], and we'll be meeting from 6-8 p.m. at [venue]!
[Consider adding emojis to break up text: 🍷🌎📍🍻🌍📍🍿🌏🥂]
Registration is live! Visit https://alumni.denison.edu/everywhere/ and spread the word. I look forward to seeing you! Send me a private message for more information.
[photo]
Template 2: Reminder (Early January)
Text:
Have you registered for #DenisonEverywhere? Join us at [venue] in [city] to connect with fellow Denison alums and celebrate our shared experiences. You'll have a great time and there's no cost! Register today https://alumni.denison.edu/everywhere/.
[photo]
Template 3: Day of the Event (January 31)
Text:
Tonight is the night. I look forward to connecting with you at Denison Everywhere. The event starts at 6 p.m. at [venue name]. [Insert any other relevant details or reminders, like where to park, what to wear, how many people will be there, etc.]
[Consider adding emojis to add visual interest: 🍷🌎📍🍻🌍📍🍿🌏🥂]
[photo]
Email Templates
Template 1: Introduction (Early December)
Text:
Denison alumni, parents, and friends, 
I hope you will join me on Wednesday, January 31st for the always popular Denison Everywhere event.  This annual tradition is a wonderful way for Denison alumni, parents, and friends from the CITY area to catch up and share memories about the university we love. Here are the details:
Denison Everywhere
Wednesday, January 31, 6-8 p.m.
VENUE NAME AND ADDRESS
[Registration linker now button]
I look forward to seeing you there!  Please let me know if you have any questions.
Best,
NAME and CLASS YEAR/PARENT YEAR
P.S. For those who wish to update their contact information with the University, please click here. 
Template 2: Reminder (Mid-January)
Text:
Greetings, Denisonians!
The time is quickly approaching for our annual Denison Everywhere event which will take place on Wednesday, January 31 from 6-8 p.m.
The CITY event will be at VENUE NAME, VENUE ADDRESS and WEBSITE LINK
I would love you for you to join us to celebrate Denison and the unique bond we share as members of the Denison community.
Please register for the event. If you already signed up, please spread the word. We look forward to seeing you on January 31st!
NAME and CLASS YEAR/PARENT YEAR
P.S. If you would like to update your contact information with Denison you can do so here.
Template 3: Final Reminder (A few days before Jan. 31)
Subject line: It's almost time to party!
Text:
Hey there,
You've probably seen an email or two from me about Denison Everywhere, coming up this Wednesday evening in [city name]!
I wanted to give one last reminder, to make sure you're still planning on meeting some fellow Denisonians, young and old, at [venue name] (website and address below) from 6-8 p.m. 
I look forward to getting together in just a couple short days. By the way, you should come hungry because Denison will be covering our appetizers as we share a toast. Cheers! 
See you soon, 
NAME and CLASS YEAR/PARENT YEAR
At the Event
Hosts have Five Main Responsibilities
Set up the check in-table. Greet attendees and get them to sign in. 

Arrive 20-30 minutes early to set-up. Make sure the check-in area is easily identifiable to attendees.

Make some valuable connections. Work the room. 

Help facilitate conversations between others, too. 

Give the "One-Minutes Message" to the group. 

At approximately 7:15 p.m., or halfway through your event when a critical mass of attendees have arrived, address the group to offer a "One-Minute Message". 

Ask a staff member to take a high-quality photograph of the group.

Do this

before

people start leaving! You can text your group photo to Taby Arthur Fogg '14, Marketing and Relationship Manager, at 740-501-8601 for a chance to be featured on the Denison Instagram story.

Hold on to nametag sheets and your receipts!

Submit them afterward to Gary and we'll reimburse you for the appetizers.